This post may contain some affiliate links. when you buy something through these links, I earn a small commission at no extra cost to you. This helps maintain my publishing activity. Thank you!
Moroccan onion-red squash soup with saffron is totally healthy and delicious! An amazing combination of savory and sweet that will make you feel satisfied and pleased!

This onion-squash soup is so easy to make and the ingredients are simple! It is served as a warming appetizer or a light healthy dinner. In Morocco, the majority of people serve this soup with dates and bread like the traditional Harira, but some prefer to bake it with slices of browned bread and cheese and serve it like onion soup.

To enhance the color and flavor of this tasty soup, we add chopped red squash, but you can replace it with another variety of winter squash according to your preference. For onions, it is recommended to use a sweeter variety, which caramelizes more easily and provides a better taste to the soup. Concerning the seasoning, this Moroccan variation is linked to saffron; the warming spice used to upgrade dishes with its unique flavor and color.
The Precious Saffron :
Widely recognized for its major health benefits, saffron gives a beautiful golden yellow color and a pleasant aroma! Its filaments are in fact stigmas (or ends of the pistil) of hand-picked crocuses, which explains their high price. Real saffron has a dark red color and can be recognized by its shape: its filaments bulge at the base and end at a point. It smells sweet and tastes a little bit bitter. It is recommended to avoid as much as possible saffron powder even if a recipe calls for it! Ground saffron is often falsified and since it is a powder, we can not distinguish real from fake!

Saffron can be stored for a few years in a dark, dry place. To serve it, you need to soak a small pinch in a warm liquid, water or broth, before using it. The precious exotic spice is a good solution to warm up foods and even some drinks! In Morocco, people use it instead of mint to prepare tea, especially during the winter!
How To Make Onion-Red Squash Soup Flavoured With Saffron: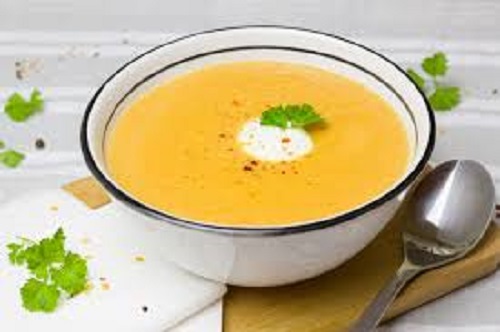 Ingredients:
2 large onions, peeled and sliced thinly
1 small Red squash (around 1 lb.), peeled and cut into large cubes
1 small potato, peeled and chopped
 Half a small cabbage head (around 14 oz), chopped
5 cups of broth (any type of your choice)
2 tablespoons of extra virgin olive oil
2 tablespoons of Parsley, finely chopped
Salt and black pepper
1/4 cup of white spreadable cheese
Directions:
Dilute saffron in a small glass of hot broth or water for at least 15 minutes to extract the maximum flavor.
In a large pan, add extra virgin olive oil and caramelize onion over medium-low heat stirring occasionally, for about 15 minutes.
Add cabbage, potato, squash cubes, and stir carefully.
Season with salt, pepper, parsley, saffron liquid, stir and keep cooking on medium-low for another 5 minutes.
Add your favorite broth, reduce heat, cover and simmer for about 30 minutes until the vegetable cubes are tender.
Once cooked, add cheese and blend the ingredients.
Serve the soup hot with slices of bread.
If you prefer to bake your soup in ovenproof bowls with slices of bread and cheese, read this article about How to prepare Onion Soup.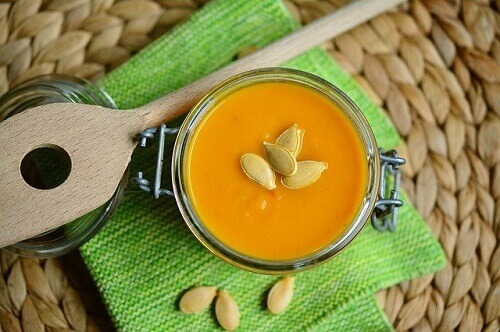 This amazing veggie soup is rich and robust! A perfect dish to please your family or friends!
Please, share the article to encourage me!
If you are a fan of Moroccan soups, find How to prepare the famous Harira Soup and the healthy Belboula Soup.