This post may contain some affiliate links. when you buy something through these links, I earn a small commission at no extra cost to you. This helps maintain my publishing activity. Thank you!
Have you ever eaten beghrir? Have you ever tried it at home?
Spongy, fluffy and delicious, beghrir is a Moroccan pancake made from a very simple dough of flour, wheat semolina, and yeast. It is most commonly known as thousand hole pancake because of its unique texture riddled with multiple tiny holes. This classic is traditionally served with honey and melted butter either for breakfast or a snack. Some Moroccans make a honey-butter syrup exclusively for beghrir crepes (some add drops of orange blossom water). However, you can enjoy beghrir with any other topping of your choice, Nutella jam, cheese spread …
In this article, I will share with you an easy recipe in its original form without eggs or milk. It is quick and gives perfect light pancakes that will please you and your family. All you need is to use a good crepe pan and to adjust the consistency of the batter following the steps! Believe me, even the cooking experience will be amazing when you see all these little holes being created like magic!
How to Make Moroccan Semolina Pancakes, Beghrir: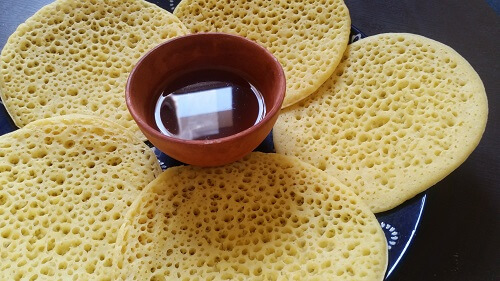 Ingredients:
Directions:
Making the Batter:
Dissolve yeast in a little slightly warm water.
In a mixing bowl, place the dry ingredients; flour, semolina, salt, sugar, baking powder, add diluted yeast, add lukewarm water and mix. You can transfer the batter to a blender or use a hand blender to smooth the preparation. The consistency of the batter should not be too thick nor too liquid.
Cover with plastic wrap and let rest at room temperature for about 20 minutes. After the rest, your batter should be slightly frothy.
Cooking and Serving the Beghrir Pancakes:
Over medium heat, heat a non-stick crepe pan, pour a small ladle of batter into the center of the hot pan, spread it delicately, and cook on one side for about 3 minutes or until the surface is dry (never flip the beghrir crepes). Your beghrir is perfectly cooking when you notice dozens of small holes formed on the top. When cooked, it should be soft and spongy but not sticky. Also, if you notice some residue on your pan, you can clean it using an oiled paper towel to prevent the next crepe from sticking.
Once cooked, place the crepes separately on a clean cloth. Avoid immediately putting one on top of the other because they will stick together.
Serve these Moroccan crepes warm with your favorite toppings on the side or dip them in honey-butter syrup. Beghrir is typically accompanied by Moroccan mint tea.
Beghrir can be kept in the refrigerator for several days; It is extra soft and does not harden quickly! It can, also, be frozen for up to 3 months; just separate each pancake with wax paper or plastic wrap.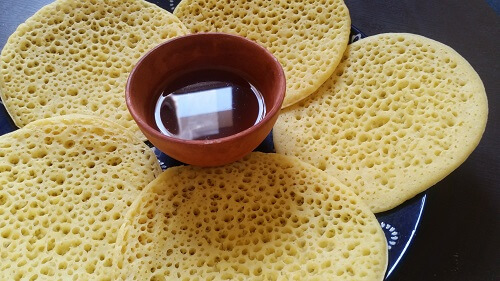 I am sure you will love these amazing crepes as soon as you give them a try! The holes on the beghrir make it absorb the topping and become so soft and delicious!
Please, share this article to encourage me!
Discover the Moroccan Msemen.