This post may contain some affiliate links. when you buy something through these links, I earn a small commission at no extra cost to you. This helps maintain my publishing activity. Thank you!
Delicate and delicious, Mhancha is a typical sweet Moroccan pastry. Its Arabic name means snake or serpentine because of its snake-like shape. This popular pastry reflects the authentic taste as well as the generosity linked to Moroccan food! Moroccans prepare it, especially for their festive occasions!
Like pastilla, Mhancha is traditionally made with a paper-thin pastry called «werqa». But since people from the states and Europe might not find these  Moroccan sheets in their area, I share how to make mhancha using phyllo dough instead. I will substitute every single werqa with three layers of filo.
Traditionally, there exists more than one paste for the filling of Mhancha; basically made with almond. In the recipe that I share with you, the paste is prepared with the almond-walnut mixture, and flavored with cinnamon and orange blossom water. Also, the almonds used for garnishing are deeply roasted. This additional step, in addition to the brushing of warm honey, is what gives our Mhancha its unique texture and flavor!
How to Make the Traditional Pastry Mhancha with Almonds and Walnuts: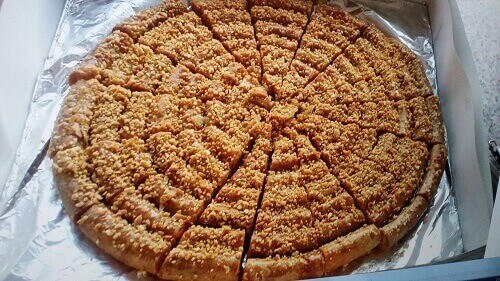 Ingredients:
Directions:
Your filo dough should be kept in the refrigerator so that it stays crunchy.
Making the Filling:
Once well ground, add the sugar, some melted butter (about 3 tablespoons), orange blossom water, a little cinnamon, Chios mastic gum, and mix for another minute until you have a smooth paste.
Shaping and Baking Mhancha:
Preheat your oven to 200°C.
Take the dough out of the refrigerator, place the first filo sheet on your work surface, brush with melted butter and egg yolk, place the second sheet on top, brush, and fold the edge of the rectangle on about 2 centimeters.
Shape almond-walnut paste into 8 long logs (thickness: 3cm, length: 33 cm), put the first log in the center and gently roll the filo pastry around it, coat with melted butter, and cut into pieces of about 5 centimeters (you can delay cutting your mhancha until serving). Do the same to shape the rest of mhanchas.
Line your baking sheet with parchment paper and place the Mhancha.
Bake for about15 minutes or until the Mhancha takes a beautiful golden color.
Brush with honey and sprinkle with roasted, sliced almonds. Personally, I use acacia honey for this beautiful pastry.
Allow cooling before serving.
Mhancha can be prepared in advance and baked days later! You will need to finish all the prep steps; even coating with egg yolk and melted butter, then freeze it wrapped.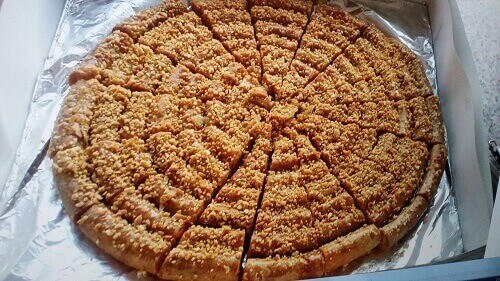 I hope you enjoy this authentic crunchy pastry! It is perfect to finish off a meal in beauty!
Please, share this article to encourage me!
Discover how to make the famous Chicken Pastilla and the sweet Apple Pastilla!