This post may contain some affiliate links. when you buy something through these links, I earn a small commission at no extra cost to you. This helps maintain my publishing activity. Thank you!
Are you a fan of doughnuts!? Do you like to discover the incomparable traditional Moroccan doughnuts!?
The Moroccan donut is an unsweetened, airy, and fluffy donut. Its dough is shaped into rings and fried in oil. It is chewy on the inside and crispy on the outside. Moroccans name their doughnut variety 'Sfenj' which means spongy, to reflect the remarkable spongy texture of this famous tasty donut.
Originated from Al Andalus, Sfenj is an old fried cake that has been associated with Moroccan cuisine for decades and decades. The fritter-like doughnut has become very popular thanks to its unique taste and texture. If you visit Morocco, you will certainly meet someone in the street with a ring of doughnuts. In fact, Sfenj is basically considered as street food in the country, but many people prefer to prepare it occasionally in their house.
This modest dessert requires just a few simple ingredients that you already have in your kitchen; flour, yeast, oil, sugar, and salt! It can be prepared and coated with sugar or without, according to one's preference. Moroccans basically serve their Sfenj for breakfast or as a sweet snack paired with Moroccan mint tea.
In this article, I will share with you a wonderful Sfenj recipe. It is so tasteful and easy to make! You will be able to make your own traditional Sfenj like a Moroccan 'Sfenaj' (Sfenj baker)!
HowTo Make Traditional Donuts Moroccan Style, Sfenj Fried Cake: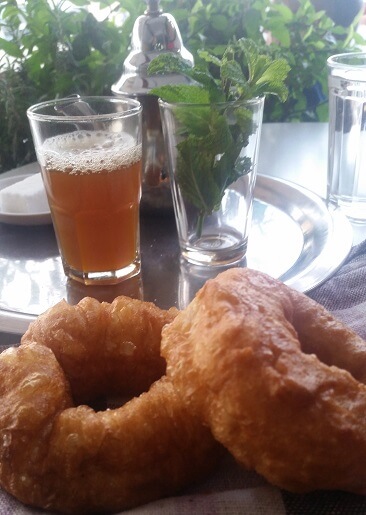 To prepare 12 donuts, you need:
Ingredients:
Directions:
In the bowl of your processor, place the flour, the yeast, the salt, the sugar, and half the warm water.
Start kneading for a few minutes, and then add the rest of the water.
Continue kneading for about ten minutes until the dough is sticky but not liquid. If you are kneading your dough by hand, do the same thing by combining the solid ingredients and adding water gradually.
Continue working the dough until it becomes smooth and sticky. Note that your kneading should be energetic.
Once the dough is well kneaded, cover it with aluminum foil, and let it rest at room temperature for about three hours until tripled in volume.
After your dough is well raised, work the dough a little bit more to degas it. Note that because the dough is very sticky at this stage, your hands should be wet to make the process easier and more practical (some people prefer using oil instead of water).
Now, heat up the frying oil in a pan.
With your fingers, make small balls of dough (the size of an egg), stretch them to make a hole in the center, and place them gently in the hot frying oil. Remember that your hands should always be wet or oiled.
Turn over the donuts to brown both sides (you will need about 4 minutes per side over moderate heat).
Let them drain on a kitchen paper or a clean towel before serving.
Serve them warm. Personally, I love serving my Sfenj with honey and mint tea.
If you want to prepare sugar Sfenj, drain them very well, then plunge them into a plate of granulated sugar. Turn them over on all sides to coat them perfectly with sugar.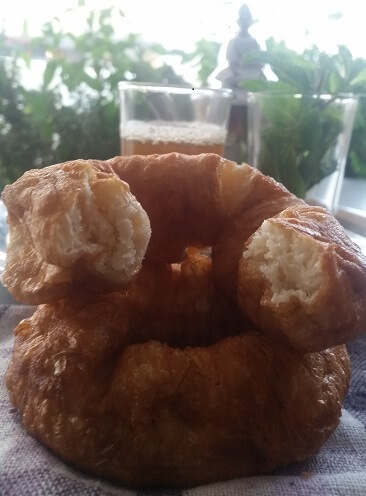 I am sure when you make this recipe for the first time, you will love it and you will never use a different recipe for donuts! Just give it a try!
Enjoy!
Please, share this article!