This post may contain some affiliate links. when you buy something through these links, I earn a small commission at no extra cost to you. This helps maintain my publishing activity. Thank you!
Do you love to bake at home? Are you ready to experience making good Moroccan bread in your oven!?
'Aghroum Nfors' (in Berber), also called 'Khobz Fors' (in Moroccan Arabic) is the basic Moroccan white bread that is distinguished by its flat, round shape with a chewy soft interior and a crisp crust. This traditional bread is an unavoidable food, present on the Moroccan table from breakfast to dinner! It is associated with the majority of meals in Morocco such as tagines and soups.
In this article, I will share with you a super easy Moroccan white bread recipe! You will need less than two hours to prepare your own warm fresh bread! Believe me, this Moroccan classic is worth trying and will please you a lot!
How To Make Moroccan White Round Bread Easily (Khobz Fors):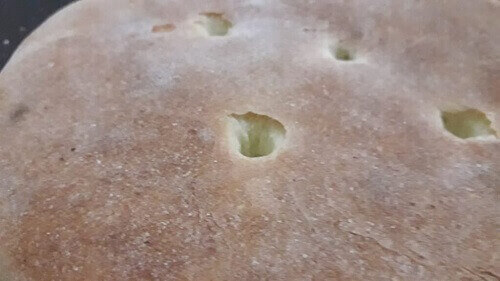 Ingredients:
Directions:
First, activate the yeast by mixing it with 1/2 tablespoon of sugar, a little bit of warm water, and let it sit for a few minutes (3 to 5 minutes).
In a large deep dish, put your flour and make a well in the center.
Add the vegetable oil, salt, 1/2 tablespoon of sugar, the yeast mixture.
Add warm water little by a little while mixing your ingredients until you get a consistent dough. Note that your dough ball should not be wet or sticky; you just need enough water to get the ingredients together. Add flour or water in small amounts to adjust your dough, if necessary.
Place the dough ball on your floured kitchen counter and start kneading for 10 minutes using the palms and the knuckles of your hands to push down on your dough. Of course, You can knead the dough with a machine, if you like; you will need just 5 minutes to knead.
Once your dough is well worked, cut it into 2 equal parts.
Knead each ball for another 2 minutes, and smooth out them as much as you can.
Place the dough balls on a floured kitchen towel, cover them, and let them rest for a few minutes (about 10 minutes).
Sprinkle a little flour on your working surface, and with the palm of your hands, start to flatten your dough balls into circles (your circles should be roughly 1/4 inch thickness and 5 times wider than your original dough ball).
Place the dough circles on your baking pan, cover them with a towel, and leave them to rise in a warm place for 1 to 1.5 hours (according to how hot your kitchen is). The dough will double in volume, and when you press gently with your finger, it will spring back.
Once your dough discs are ready, use folk or a sharp knife to create some steam vents on the top of the bread. Traditionally, Moroccans just make small holes with their finger.
Preheat the oven to 400°F, and put your bread in the center.
Bake for around 25 minutes, checking on the loaves and turning them to the other side to bake them perfectly. Your round white bread is fully baked and ready when you notice that their surface is nicely golden-brown on both sides and they sound hollow when you tap them.
Transfer your beautiful bread to a towel-lined basket and let it cool before serving.
Your leftover bread can be frozen perfectly to be consumed later. Keep it in a resealable bag, and when you decide to defrost it, just allow it to come to room temperature.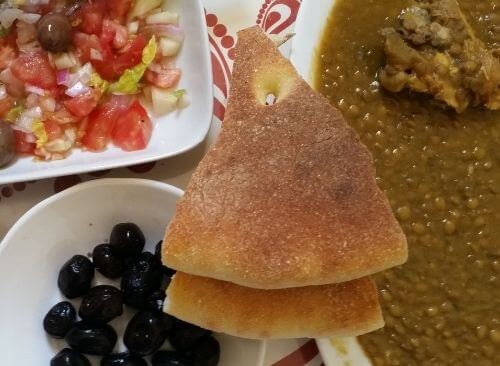 Do not hesitate to give this Moroccan bread a try and make your house smell like a bakery!
Enjoy the experience!
If you are a fan of beautiful types of bread, try the pita bread Batbout, and the famous Baguettes.
Please, encourage me and share this article!