A typical family dish, tagine is very popular in Moroccan cuisine. Traditionally, Moroccan tagine is prepared in an earthenware dish and people enjoy it by dipping bread in its fragrant spicy sauce.
The special beef tagine with vegetables is one of the best Moroccan tagines. In fact, there are different recipes for beef tagine with vegetables. Each region in Morocco has a special variety and even some families add their own little touch!
In this article, I will explain how to easily prepare a perfect spicy beef tagine with beautiful vegetables such as carrot, potato, green peas, and zucchini. The traditional combination of spices used will provide an amazing depth of flavor!
The recipe here is for 2 persons but you can double the ingredients to feed more persons. It is very simple but, believe me, the result will surprise you a lot!
How to Prepare Moroccan Beef Tagine with Carrot, Potato, Zucchini, and Green peas: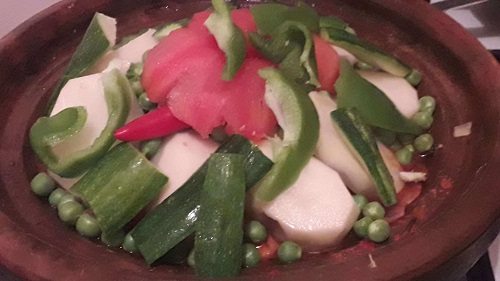 Ingredients:
1 lb of boneless beef
1 big onion, chopped
1 tomato, peeled, and cut four pieces
2 carrots, cut into sticks
1 zucchini, cut lengthwise
2 potatoes, cut four pieces
1 bell pepper, cut lengthwise
1 cup green peas
1 tbsp olive oil
1 teaspoon cinnamon
3 cloves of garlic
5 pistils of saffron
1/2 tsp ground ginger
1 tsp paprika
1/2 tsp pepper
1/2 tsp turmeric
Fresh parsley to taste
Salt to taste
Chilli pepper, optional
Directions:
Prepare the vegetables and cut the meat into evenly sized pieces.
Heat the tagine with olive oil.
Brown the meat for about 5 minutes on each side. If you do not have a tagine pot you can prepare the recipe in a heavy-bottomed pan or casserole, but heat oil just for 2 minutes over medium heat.
Add chopped onion and garlic, stirring regularly.
Sprinkle spices and add salt according to your taste.
Stir, reduce heat to low, then place vegetables starting by carrots then zucchini and potatoes.
Place tomato and decorate with green peas and bell pepper.
Taste and season with salt to adjust the taste.
For the last 30 minutes of the cooking time, add chilli pepper if you love spicy food.
Your tagine needs 1 hour and half simmering, and just 1 hour cooking if using a casserole.
Serve scattered with parsley.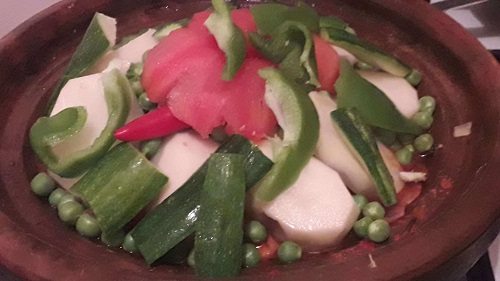 This famous Moroccan specialty deserves some effort in the kitchen! You will love it too much and you will enjoy the real taste of Moroccan food! Your amazing tagine will certainly wake your taste buds; a spicy gourmet full of flavors and aromas!