This post may contain some affiliate links. when you buy something through these links, I earn a small commission at no extra cost to you. This helps maintain my publishing activity. Thank you!
Moroccan Vegetable tagine, known as Atlas tagine, is one of the best healthy dishes linked to Moroccan food. Attractive and tasty, it has become popular especially with people who adopted a vegetarian diet. Traditionally, it is cooked in a tagine pot over charcoal. However, one can use a large, deep casserole to arrange all the vegetables and cook over low heat. Moroccans like to serve this flavorful tagine for lunch or dinner paired with Moroccan bread.
The Vegetable tagine, like many other Moroccan dishes, combines salty and sweet. It provides an incomparable taste especially when the traditional spicy touch is present! Ras El Hanout, the Moroccan fragrant spice mix, upgrades this tagine and gives the vegetables an amazing flavor. Also,
The original Argan Oil, traditionally linked to tagine recipes, perfumes delicately the dish and makes it unique!
In this article, I will share with you an original recipe for Moroccan vegetable tagine. I will show you how to prepare your own tagine with argan oil and Ras El Hanout. The ingredients are simple but the results are amazing! Unless onion, you can delete or substitute any type of vegetables according to your preference. Use the vegetables you have in your fridge and just follow the steps! The secret is in the oil and spice mix used!
How to Make Moroccan Vegetable Tagine: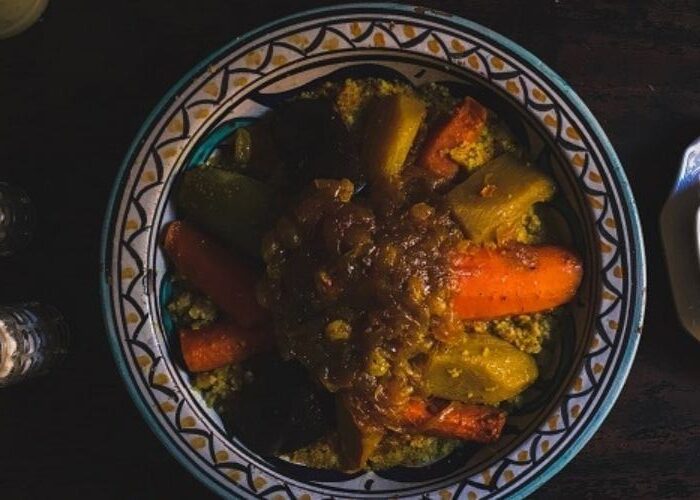 Ingredients:
1 large Onion, cut into rings
1 small head of Cauliflower, broken into large florets
2 Potatoes, peeled and cut lengthwise
2 Carrots, peeled and cut lengthwise
1 yellow Turnip, peeled and cut into large cubes
1 white Turnip, peeled and cut into large cubes
1 cup of green Peas, (fresh or frozen)
1 cup of green Beans, (fresh or frozen)
1 red Pepper, peeled and cut lengthwise
1 green Pepper, peeled and cut lengthwise
2 Zucchinis, peeled and cut lengthwise
1 Tomato, cut into wedges
1 bouquet of Coriander
1/2 Lemon, cut into wedges
2 tbsp Argan Oil or Extra Virgin Olive Olives
1 tbsp Ras El Hanout Spice Mix
1 glass of Water
Directions:
Wash, Peel, and Cut the vegetables. Wash the coriander and cut the stems (do not throw).
Put the vegetables in a large bowl, add salt, season generously with Ras El Hanout, then add a glass of water to help the vegetables soak the flavors.
Arrange all the vegetables in the tagine pot; start by placing the coriander stems as a first layer and onion rings as a second layer, then place harmoniously the rest of the vegetables; cauliflower, potato, carrot, yellow and white turnips, green beans, red and green peppers, zucchini, and tomato.
Pour the rest of the spicy water over the vegetables, place some chili pepper to provide that spicy dimension to your tagine, add olives and lemon for some acidity, and place the raisins or prunes to bring the sweet side.
Now, put the bouquet of coriander (you can put parsley or thyme if you like). Drizzle one tablespoon of argan oil or extra virgin olive oil and cover.
Place the tagine on the stovetop and cook, over low heat, for about 1 hour until the vegetables soak the spicy water. Keep in mind that the tagine pot requires special care! It does not accept high heat! Traditionally this utensil is used on charcoal. So, always cook on low heat just to maintain a simmer.
Remove the tagine from heat. Discard the bouquet of coriander. Drizzle another tablespoon of argan or extra virgin olive oil.
Serve the tagine with bread (learn how to make Moroccan white round bread). Some people decorate this authentic vegetable dish with mint leaves.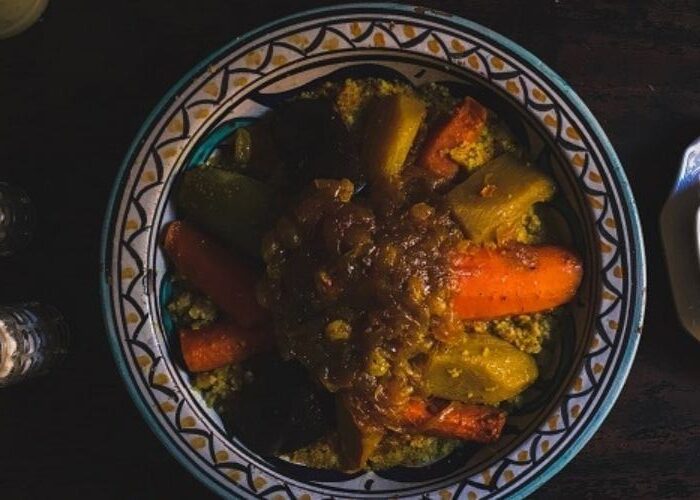 I hope you enjoy this "vegetable festival"! This is one of the best ways to eat healthy vegetables … Eating healthy does not mean not eating tasty!
Please, share this article to encourage me!
Discover this Chicken Tagine with Vegetables and this Lamb Tagine with Prunes and Walnut