This post may contain some affiliate links. when you buy something through these links, I earn a small commission at no extra cost to you. This helps maintain my publishing activity. Thank you!
Lamb Tagine is one of the important ambassadors of the Moroccan food kingdom! If you ask someone about Morocco, you will undoubtedly hear the term TAGINE in his first ten words! Besides couscous, tagine is a staple in the country and represents the delicacy of Moroccan food!
First, let me explain what can be confusing for some! The term tagine has two meanings; on the one hand, the tagine is the clay pot with a lid basically linked to Moroccan food, and on the second hand, it is the prepared food in this tagine pot.
The secret of preparing a perfect lamb tagine, besides good ingredients, is to cook over very low heat. Traditionally, It is cooked in a terracotta tagine on charcoal, but we can succeed even with modern cooking! So, do not worry!
In this article, I will share with you an original recipe for lamb tagine with prunes. I will explain how to prepare this Moroccan food using a pressure cooker. So, even if you do not have a tagine pot, you can still make a perfect lamb tagine. All you need is to select good and fresh ingredients and follow the steps!
If you have a tagine pot, follow the same steps. Cook on low heat and use a heat diffuser especially for Ceramic Tagine to protect it! You will need more cooking time of course!
Select Good and Fresh Ingredients:
Good Meat:
The best meat cuts for lamb tagine are either from the shoulder or neck. The meat in the neck is so soft and tender even if there are bones. The shoulder, on the other hand, would take a bit more cooking time but the reward is the amazing flavor provided. Personally, I prefer lamb shoulder for all lamb tagine variations.
Good Onion:
To guarantee good results, you have to pick onions that are firm and germ-free. The skin should be dry and have no wet spots.
Fresh Aromatic Herbs and Spices:
Choose fresh herbs with clean color. Concerning spices, the Moroccan traditional spice mix Ras El Hanout is one of the success keys that give extra authenticity! Use good flavourful spices to enhance the taste of your tagine.
Good Cooking Oil:
In Morocco, lamb tagine, like other original Berber tagines, is traditionally linked to Argan Oil. However, the majority of Moroccans use Extra Virgin Olive Oil, and the results still perfect. Try to use an oil with a delightful taste.
How To Make Moroccan Lamb Tagine With Prunes Easily: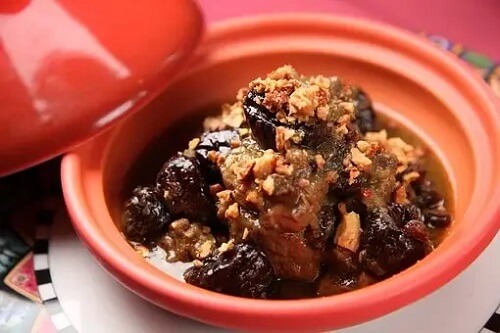 Ingredients:
For the Preparation of Meat:
For the Preparation of Prunes:
For decoration:
Directions:
Preparation of Meat:
In a pressure cooker, put Argan or olive oil, add the chopped onions, and stir fry for a minute.
Add the crushed garlic, add the pieces of lamb, and continue stirring to brown the meat.
Add salt, parsley coriander mixture, cinnamon, ginger, pepper, Ras El Hanout, saffron. Stir and reduce to low heat.
Add water, cover, and cook for about 40 minutes.
Once the meat is cooked, remove it from the heat, and let the sauce reduce.
Preparation of Prunes:
In a pot, bring water to a boil and add the prunes.
Add meat sauce, sugar, cinnamon, salt, and stir.
Over low heat, let the prunes caramelize for about 15 minutes.
Arrange Meat and Prunes:
In a tagine pot or another serving dish, place the pieces of meat carefully then place the prunes.
Add sauce and sprinkle almonds.
If you are using boiled eggs, cut them in half and decorate your dish.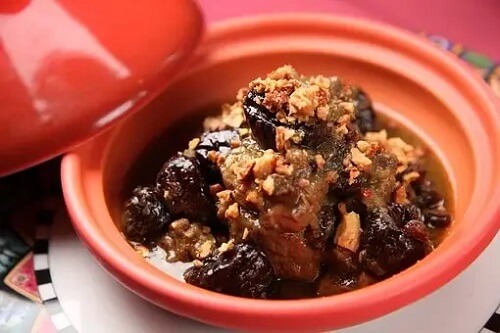 So, here is the amazing Moroccan food that allows you to delight your family or friends! This flavorsome tagine deserves your patience!
Please, encourage me by sharing the article!
Another authentic tagine recipe, the original Chicken Tagine with Vegetables.