This post may contain some affiliate links. when you buy something through these links, I earn a small commission at no extra cost to you. This helps maintain my publishing activity. Thank you!
One of the best Moroccan food dishes, Bissara or Bessara is a tasty puree made from dried beans or split peas. Generally, this authentic food is linked to all North African countries and Bissara is the Moroccan variety. Moroccans consume it especially during the winter and name it winter-soup!
Bissara is a budget healthy recipe that strengthens the immune system! In addition to the gustatory aspect, beans and peas are rich in nutrients such as proteins, vitamins, and potassium. In fact, it is recommended to integrate these protein foods, fresh or dry, into our diet all year round.
Traditionally, Bissara is based on water as the only liquid, but you can substitute water with your favorite broth; chicken, beef, or vegetable. This Moroccan food can be made creamy like a dip or light like a soup. It is served warm as a complete meatless meal paired with slices of bread. Also, we can serve it as a part of a selection of mezze. Personally, I like to eat this winter food for breakfast and start the chilly morning with extra energy! I garnish my generous bowl with a drizzle of extra virgin olive oil and cumin.
In this article, I will share with you two original Bissara recipes; the first one with dried beans and the second with split peas. Both of them are delicious, comforting, and rich in nutrients! The ingredients are simple and the preparation is easy!
How To Make Moroccan Bissara:
Fava Beans Bissara: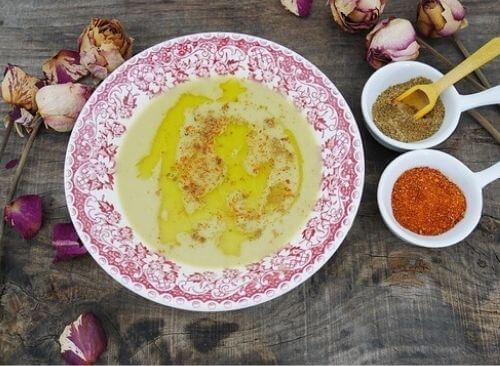 It is preferable to soak the dry fava beans in water for the whole night to reduce the cooking time and make them less gassy. Also, avoid large caliber for better results.
Ingredients :
6 cups/1.5 liter Water or Broth (Your liquid should rise above the beans about 3 inches)
2.5 cups/500 g small Fava Beans. The best one on Amazon from Egypt
5 crushed Garlic cloves
Salt to taste
1 pinch Black Pepper
2 teaspoons Cumin (to cook and to garnish)
2 tablespoons Extra Virgin Olive Oil (to cook and to garnish)
1 teaspoon Paprika (to garnish)
Directions:
Pour water into the pressure cooker and bring to a boil. If you are using broth, you will need to adjust the seasoning later.
Wash the beans (until the water runs clear) and pour them into boiling water
Add salt, pepper, the crushed garlic cloves, and cook over high heat for 10 minutes.
Discard the froth formed on top, Lower the heat, add 1 tablespoon olive oil and 1 teaspoon cumin, and simmer for 30 minutes.
Once the beans are well cooked, remove from the heat and leave to cool.
Blend the ingredients to obtain a soup with a bound consistency.
Put the soup back into the casserole to heat it over low heat.
Serve hot, sprinkled with cumin and paprika. Add a drizzle of extra virgin olive oil according to your taste. I think you will love this one!
Split Dry Pea Bissara: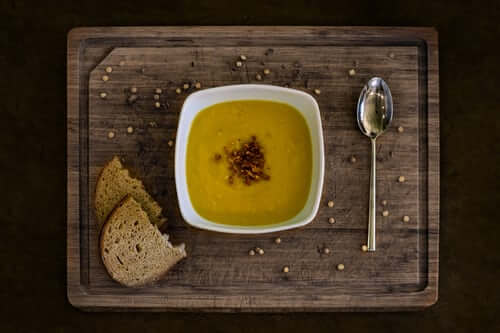 Ingrédients:
6 cups/1.5 liter Water or Broth
Salt to taste
1 teaspoon Cumin
4 crushed Garlic cloves
2 tablespoons Extra Virgin Olive Oil
1 teaspoon Paprika
1 pinch Black Pepper
4 sprigs fresh Parsley
Directions:
Pour water into the pressure cooker and bring to a boil.
Wash the peas well and place them in boiling water.
Add salt, pepper, cumin, parsley, and garlic. Close and cook for 30 minutes until the peas are fully cooked. Stir occasionally as the peas can stick to the bottom of your pot.
Remove from the heat and allow to cool.
Place all the ingredients in a blender and blend until you obtain the consistency you like (you can stir in additional water).
Reheat the soup.
Serve hot sprinkled with paprika and cumin. Add a drizzle of extra virgin olive oil to taste. This is my favourite!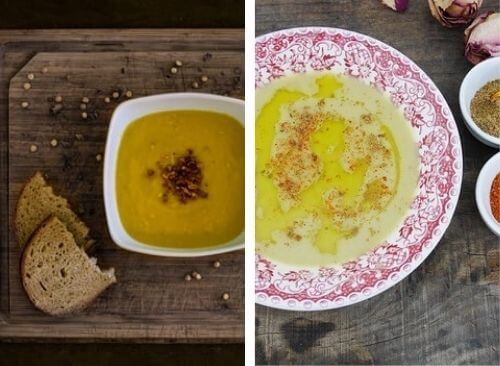 So here's just what you need for this cold! Two amazing Bissara variations that reveal the authentic taste of Moroccan food! I hope you give them a try soon! Just follow the steps and you will be able to prepare a warm flavorsome Bissara like a local!
Please, share the article to encourage me!