This post may contain some affiliate links. when you buy something through these links, I earn a small commission at no extra cost to you. This helps maintain my publishing activity. Thank you!
Moroccan food is famous and has a deserved reputation. Throughout history, Moroccan cuisine has offered a variety of excellent foods with unique flavors. Moroccan omelets are among these successful dishes that, though simple, provide a distinctive taste!
In fact, eggs are protein-filled food and have many benefits. They are, also, the best way to eat well for cheap. However, preparing the basic omelet every day makes it more like a duty than a pleasure! So, here is a perfect solution to make of simple eggs an amazing dish with a surprising taste!
In this article, I will share three omelet varieties linked to Moroccan food that you can enjoy even if you do not have any cooking experience!
3 Moroccan Food Recipes To Transform A Simple Omelet Into An Amazing Dish:
1- Moroccan Puffy Omelet: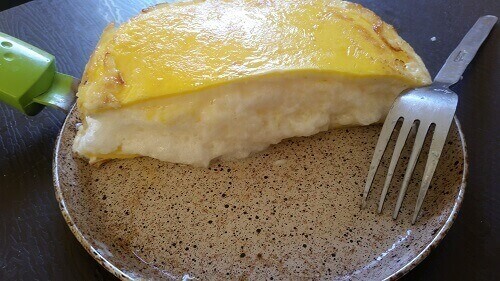 Moroccan puffed omelet or omelet soufflée is cooked in a skillet. Before cooking, It requires beating the egg whites and filling them with air bubbles. This special cooking method gives a puffy result with a perfect texture. Your omelet will resemble a beautiful cake and you can serve it with your favorite sauce (sweet or savory).
Ingredients:
3 large Eggs
A little Sugar
A pinch of Salt
Oil or Butter to brush the pan
Directions:
In a bowl, put egg yolks, add salt, and beat until well mixed.
In a separate bowl, start beating egg whites, add sugar, and continue whisking until you form glossy peaks. You can use a whisk or hand blender to make the process faster.
Now, brush your pan with oil or butter according to your choice, add egg yolk, and cook over low heat.
Once lightly cooked, place egg white over it, cover, and continue cooking for about 4 minutes.
Serve your puffy omelet with a sweet or savory sauce. You can, also, put your favorite cheese before folding it. Try Gruyère cheese; just perfect with omelets!
2- Moroccan Mhemmer Omelet: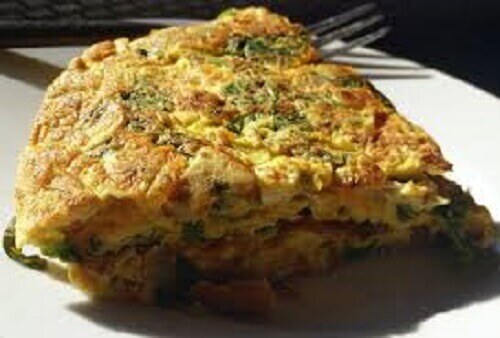 This Moroccan food has a long history! It is a recipe for our mothers and grandmothers that still has a place in Moroccans' hearts. The process of mixing vegetables with eggs, spices, and herbs gives it a unique taste. Mhemmer or Meguina can be served as a main dish or side dish. The mashed potatoes cooked with eggs make it easy to cut and the slices look so attractive on your plate.
Ingredients:
5 large Eggs
2 medium Potatoes
2 Baby Carottes
2 handfuls of fresh Peas. You can use canned peas instead
1 tablespoon Extra Virgin Olive Oil
1 tablespoon of Parsley
1 pinch of Salt
1 pinch of Pepper
1 pinch of Cumin
2 Garlic cloves
Directions:
Boil potatoes, carrots, and fresh peas until they are tender (when the knife stuck inside comes out easily).
Peel the potatoes and the carrots. Mash with a masher or a folk (avoid using a blender as It makes the mashed potatoes elastic).
In another bowl, beat the eggs. Add mashed potatoes and carrots, peas, salt, pepper, garlic, and parsley. Mix delicately the ingredients.
Pour extra virgin olive oil into a skillet. Add the mixture.
Cook the veggie omelet covered, over low heat, for about 20 minutes.
Now, turn it over and continue cooking for another 10 minutes.
Let it cool before unmolding.
Serve it on a large plate with slices of bread.
Learn how to make Moroccan White Round Bread.
3- Berber Omelet: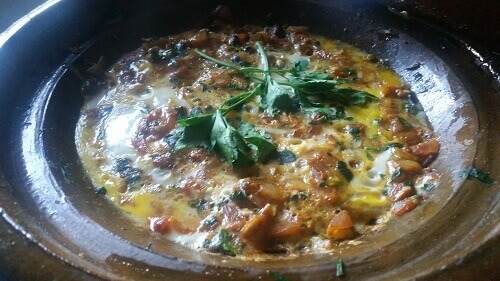 Berber omelet is traditionally prepared in a tagine dish but we can, also, cook it in a cast-iron pan and the result would be still perfect. This spicy omelet, based on eggs and onion, is one of the best quick recipes in Morocco. Berber omelet is served especially for breakfast paired with Moroccan white bread and Moroccan mint tea.
Ingredients:
Directions:
Heat Argan or olive oil in a tagine pot or a large pan over low heat and add chopped onion.
Season and sauté for about 8 minutes until caramelized (using the tagine pot would require more cooking time: about 15 minutes).
Now, add eggs and stir.
Cover and cook for about 5 minutes.
Scatter more parsley over your omelet and serve. I personally love serving this omelet with Batbout bread for breakfast!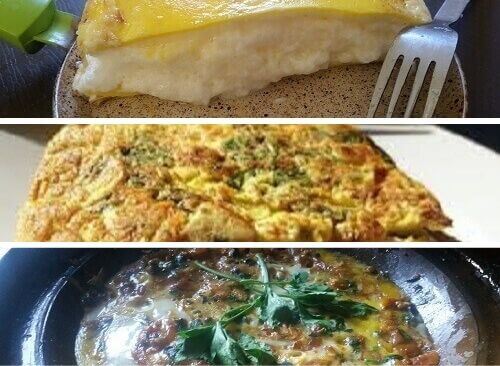 Even if you are not a fan of omelets, believe me, you will love making an omelet as soon as you discover the incomparable taste hidden in these recipes! All of them are simple to make and require no cooking skills! You do not have to be a chef to please yourself and your family!
Please, share this article to encourage me!
You may need to read about this Moroccan Tomato-Egg dish with Olives and Peas!