This post may contain some affiliate links. when you buy something through these links, I earn a small commission at no extra cost to you. This helps maintain my publishing activity. Thank you!
Moroccan food has a huge historical background. Throughout history, it has been influenced by different cultural and geographical influences. Today, Moroccan cuisine offers a variety of food styles and recipes based on rich and healthy ingredients. These recipes respect the healthy diet and provide the flavor missed in most of the diet foods.
Moroccan food is, also, a good solution to enjoy eating during the night and still maintaining a healthy lifestyle. As we know, eating at night can cause weight gain and other health difficulties. Many people worry about this and prefer to stop completely eating after a particular time! But, I think one should focus on what he/she eats more than when to eat! A Uk study declares that there is no link between consuming food after 8 pm and weight gain. The excess weight has to do with the quantity of food and caloric intake more than the timing. Selecting healthy foods during the night will avoid any problem!
In this article, I will share with you three healthy late-night Moroccan recipes that you can enjoy before sleeping; they are so tasty and satisfying! You will love them all as soon as you taste them!
3 Healthy Late-Night Moroccan Foods:
1- Moroccan Roasted Carrots:
Moroccan roasted carrots dish is one of the most popular Moroccan foods. Even though it is simple, you will be surprised by its unique taste! The sweetness in these carrots is perfectly brought out and mixed with the aroma of the spices and fresh lemon. Most Moroccans serve this meal with bread as a light dinner. However, it can, also, be served as a side dish or appetizer.
The carrots in this recipe are made with chermoula sauce. Like Bakoula dish, this Moroccan food will not only improve your health but will, also, let you enjoy an incomparable flavor!
Ingredients:
Directions:
Wash, peel, and slice the carrots into coins.
Cook them in some hot salted water for about 15 minutes until tender.
Once cooked, drain and leave aside.
Add parsley and/or cilantro, salt, spices, lemon juice, and stir.
Add the carrots and cook stirring well in order to make them absorb the flavor of the 'chermoula' sauce. Cook until they are perfectly tender and caramelized.
Serve them cold or warm.
2- Bakula: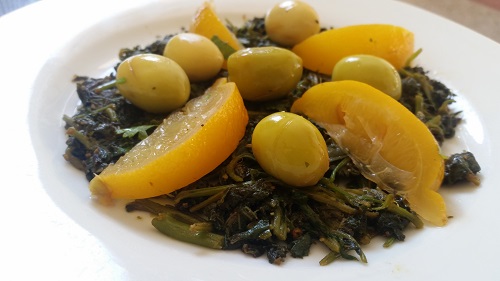 Bakula, also named Khoubiza, is a mallow salad prepared Moroccan style. It is one of the best choices to prepare a satisfying tasty dish in a few minutes. In Morocco, this healthy salad based on plants is served either as a starter or accompaniment. However, many people like to have it for dinner as a main dish paired with Moroccan bread. For them, Bakula is a complete meal that provides both taste and nutrition.
Here is an easy mallow recipe that does not take much time to prepare. This steamed mallow with olives and preserved lemon will surprise you with its unique taste! If you like, you can substitute mallow for spinach but you do not need to steam it before frying like mallow.
Ingredients:
Directions:
In a large bowl, wash the mallow very well, drain, and chop the leaves.
In a steamer, place the mallow leaves, and steam over simmering water for about 15 minutes or until tenderized.
Once cooked, remove and drain well.
In a frying pan, add olive oil and place Bakoula with parsley, cilantro, garlic, spices, and lemon juice.
Mix the ingredients, add salt, adjust the seasoning, and cook for about 10 minutes over medium heat stirring to avoid burning. Cook until complete evaporation of the liquid.
Decorate your Bakula with slices of preserved lemon and olives.
Serve it warm.
3- Moroccan Beet Salad: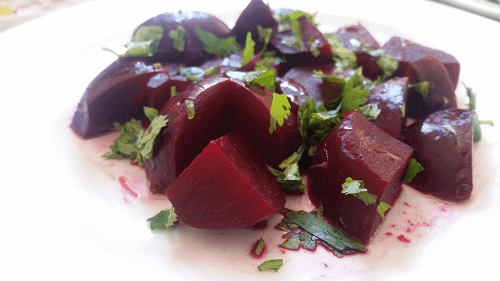 Moroccan beet salad is another perfect dish that you can serve as a late-night meal. It is one of the popular salads offered by Moroccan cuisine that are both tasty and healthy. The beets in this recipe are boiled then seasoned with olive oil, herbs, and flavorful spices. It is super easy to make and the results are so amazing.
Ingredients:
Directions:
Wash the beet thoroughly under running water and cook in boiling salted water for about 20 minutes or until tender. You can, also, steam beets, they just need more time to tenderize.
Remove the skin and cut them into slices or squares according to choice.
In a salad bowl, mix the beet slices with extra virgin olive oil, salt, pepper, cumin, lemon, and parsley.
Serve cold.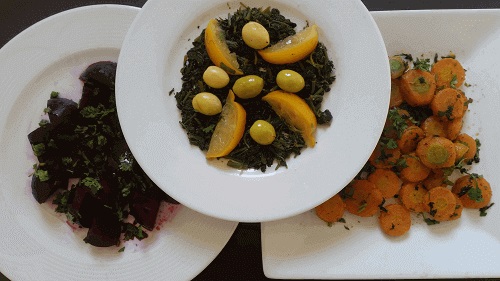 I am sure you are going to love how easy these recipes are! They guarantee health benefits as well as the authentic taste linked to Moroccan food!
To maintain a healthy eating lifestyle does not mean eating bland foods!!!
If you are a fan of healthy soups, I think you will love Moroccan Barley Soup, Belboula!
Please, share this article to encourage me!