This post may contain some affiliate links. when you buy something through these links, I earn a small commission at no extra cost to you. This helps maintain my publishing activity. Thank you!
The amazing Moroccan barley soup, Belboula with olive oil and cumin will certainly surprise you! This creamy soup is so satisfying and tasty! If you need a nutritious soup but you do not have much time to stay in the kitchen, do not hesitate to cook Moroccan Belboula!
Barley grits (Ibriyn in Berber, Belboula in Moroccan Arabic) are basically associated with couscous. However, people also used them to make different cakes, loaves of bread, and soups. In morocco, There exist two varieties of barley soup; white Belboula or Hsoua prepared with milk, and red Belboula made basically with tomato and onion.
White Belboula is a porridge-like soup that is very popular in Morocco. The majority of Moroccans like to serve it in the evening or for breakfast paired with the pita bread Batbout and the incomparable mint tea. This simple Moroccan soup is effortless and is a good choice for people who like to eat good meals but can not stay in their kitchen for a long time. It is also a nice vegetarian soup.
In this article, I will share with you an easy Belboula recipe! It is an original Moroccan recipe that is cooked, in addition to barley grits, with extra virgin olive oil, milk, butter, and cumin. You just need to follow the steps, and you will be able to prepare your own warm Belboula like a pro!
How To Make The Original Moroccan Barley Soup Belboula: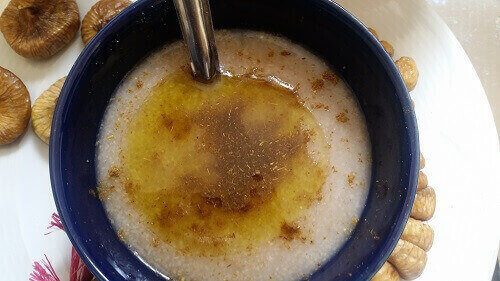 Ingredients:
Directions:
In a large bowl, start washing your barley grits, and drain them through a sieve. Maybe you will need to wash and drain them several times to make them clean (the water should not be cloudy).
Bring water to a boil.
In a saucepan, put the barley grits, add the extra virgin olive oil, and mix very well to make your grits absorb the aromatic olive oil.
Add boiled water, stir well, and cook over medium-low heat.
Add salt, cumin, and stir well. Note that you should stir occasionally the soup to avoid burning as the grains can stick to the bottom of your pan.
Cook your soup for about 20 to 25 minutes; until it is thick enough, and the barley grits are tender.
Add milk and butter, and stir well but pay attention because the soup can boil over! You should stir very carefully at this stage.
Adjust the thickness of your soup according to your choice by adding milk. Continue to cook for a few minutes; about 5 minutes.
Taste and adjust salt before you turn off the heat.
Serve your barley soup hot in small soup bowls. Drizzle more extra virgin olive oil over it, and add a generous pinch of cumin.
Note that If you like, you can use evaporated milk (not to confuse with sweetened condensed milk) to make your barley soup more creamy. Personally, I do not use it, and the result is still perfect.
This amazing barley soup can be refrigerated for 4 to 5 days as it does not contain ingredients that go bad faster. The soup will naturally thicken in your fridge, and you will need to add water to adjust the thickness when reheating
I love to prepare white Belboula for dinner with dried figs or dates.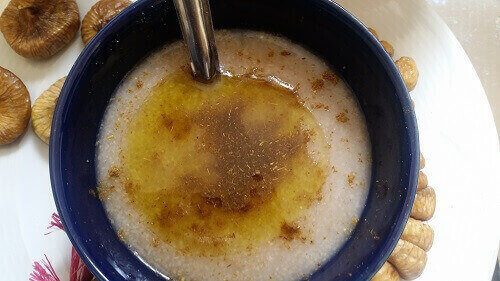 I hope that you enjoy this classic Moroccan soup! It is so healthy and tasty!
Share the recipe to encourage me, please!
If you are a fan of Moroccan soups, try Moroccan Harira Soup and Onion-red squash Soup with Saffron