Moroccan mint tea 'Attay', is a drink prepared, in the Traditional teapot 'Berrad', from green tea and fresh mint leaves. It symbolizes the Moroccans' joy and hospitality; in Morocco, if you are served a cup of hot tea, it means that you are receiving a warm welcome.
Historically speaking, this old drink has been associated with the country since the 17th century when the British discovered the Moroccan market for the first time via Gibraltar. 'Attay' has become, since then, part of Moroccans daily life. The traditional Moroccan teapot itself is a special piece of art that adds much prestige to your kitchen. Made of silvery copper and decorated with hammered motives, it has a unique artisanal aspect.
In this article, I will share a simple mint tea recipe that will please you a lot. Just follow this easy method and enjoy the unique taste of this authentic drink!
How Mint Tea Is Typically Prepared by Moroccans: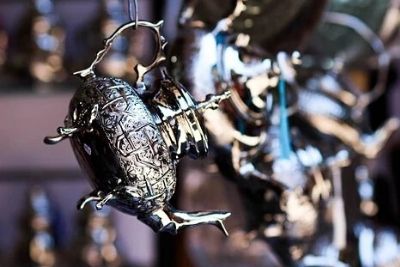 Before you start to prepare your Moroccan mint tea, you certainly need a teapot to get a good result.
Ingredients:
To prepare a teapot of 1L, you need (if you have a smaller pot, prepare accordingly):
Boiling Water
4 teaspoons Gunpowder Green Tea
1 Bunch of Fresh Mint
3 Lumps of sugar or bricks (bricks of 30g)
This authentic mint tea is famously sweet. But, of course, you can make it less sweet according to your personal taste or health concerns
Directions:
Put your gunpowder green tea into the teapot.
Pour in a little boiling water (about 1 tea glass).
After 2 minutes, pour the dark liquid (the soul) out into a glass, and save it as you will need to pour it back in the pot later.
Pour in, for a second time, a little bit of water, but, now, do not save it (just to rinse).
Once done, pour 'the soul of tea' into the teapot. Add the rest of the boiling water until the tea jug is nearly full (leave a place for mint).
Place it on the stovetop and let infuse for about 4 minutes (when you see bubbles forming on the surface).
Remove your teapot paying attention to its handle which will be so hot (use a handle cover to pick it up).
Wash your mint well in cold water, and put it in the pot.
Press mint leaves into the bottom using sugar bricks you want to add. To prepare and to stir your Moroccan mint tea, never use a spoon or a metal tool because it will ruin the taste. Moroccans pour tea into one or two glasses, then pour it back into the pot. They remain to mix this way until it is ready.
When it is done, cover the teapot and let brew for another 2 minutes.
Serve hot in a tray with your pretty tea glasses.
Pour your Moroccan mint tea, holding the teapot high enough above the glass to form that prestigious foamy head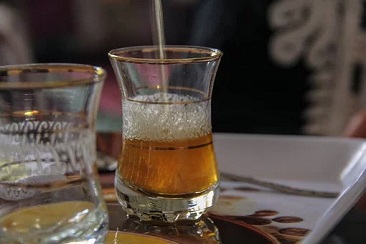 Moroccan mint tea can be enjoyed at any time you like and you can serve it alone or with your favorite cake. But, trust me, nothing could be better than to pair it with the perfect cake named "Fekkas" which is the pretty queen of Moroccan pastries. When accompanied by your perfect Mint tea, it is like you find a suitable partner for a good dancer.
Moroccans often prepare their mint tea in front of the guests, and not in the kitchen. The preparation process for them, in fact, is a kind of ceremony. It is much more than preparing and drinking a cup of tea. Personally, when I see the large silver tray decorated with different ingredients, I immediately realize that I am going to spend very special moments.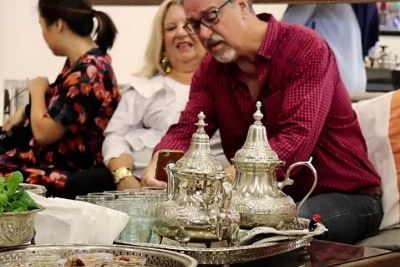 I hope you will enjoy this authentic traditional Moroccan mint tea!
Let me know if you do!.
The chewy flatbread Msemen and the soft pita bread Batbout, pair ideally with Moroccan mint tea for breakfast.