"M'semens" (Msemmen, Msemen), also called "Rghaif" are flattened square-shaped Moroccan pancakes or flatbread made from flour and semolina. If you visit Morocco, you will be served Msemens either as a snack or for breakfast, accompanied basically by the Moroccan mint tea. These Moroccan pancakes are soft and chewy with a crispy outside. We can top them with Nutella, cheese, or any other toppings, but, In Morocco, people usually eat them with honey and butter or traditionally fermented butter called "Smen". In fact, the term M'semen means in Moroccan dialects "prepared with smen", and smen seems to be typically related to this flavorful ingredient in Moroccan cuisine.
M'semens can, also, be served savory, topping them with vegetables and spiced minced meat, for example, or adding one's favorite savory filling to the center of the dough before folding. The perfect texture combination of this Moroccan flatbread will guarantee good results. In this article, I will show you how to make this Moroccan pancakes recipe. It is not at all difficult to prepare, you have just to follow the steps! I promise it is going to be super easy!

How To Prepare Moroccan Pancakes Msemen: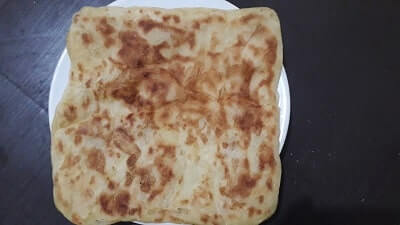 Ingredients:

3 cups/400 g All-purpose White Flour
1 cup/160 g Extra Fine Semolina
1 tspn/4 g Baker's Yeast (For better results use active dry yeast)
1 tspn/6 g Salt
1/4 cup/60 ml Vegetable Oil
2/3 cup/150 g Melted Butter
1 cup/230 ml Warm Water (It can be less or more depending on the absorption of your flour)
Directions:

1- Kneading Msemen's Dough:

Dissolve the dry yeast in a little lukewarm water and let it foam.

In a large bowl, start mixing, using your hand, the flour, salt, half the amount of extra fine semolina, and dissolved yeast.

Add warm water a little by little and continue working in the dough (for about 8 minutes) until you form a ball that is not too moist and, also, not sticky.
Note:
If you notice that you put too much water just add little flour to balance your dough.

Place the dough on your kitchen counter and knead it with the palms of your hands for about 5 minutes.

Once your dough becomes smooth and elastic, brush it with a melted oil-butter mixture.

Grasp a portion of the dough and, according to the number of "Rghaif" pancakes you want to make, cut small dough balls that are nearly the same size as golf balls. Do not forget to put the melted oil-butter mix on your hands from time to time to keep them well-oiled while forming your dough balls.

Place your dough balls on a large plate, cover them with napkins or foil, and let them rest for 20 minutes.

2- Shaping Msemen's Dough:

Now, you start to shape your dough balls into squares which is the typical shape of this Moroccan flatbread:

First, brush your kitchen counter with the oil-butter mix. Then, oil your hands and use the palm of your hand to flatten the dough ball.

With your fingers, push gently the edges of the dough to expand it and to form a thin transparent disc of dough (you can even see your kitchen counter through it).

Sprinkle extra fine semolina on the disc of dough (Use the rest of semolina depending on the number of dough balls you have) and form a rectangle of dough, folding the lower edge and upper edge of your dough towards the center on top of each other.

Again, sprinkle with semolina and create a square by folding to the left and right edges of the dough towards the center on top of each other.
When you finish to shape all your Msemens, coat them with oil-butter and
place them on an oiled dish.

Cover them and let them rest for 10 minutes.

3- Frying M'semen:

Now, brush your kitchen counter with butter-oil mix and use the palm of your hand and your fingers to flatten the first dough square until you form a thin square three times larger.

Heat your pan on high heat and drizzle some butter-oil mix on it.

Once your pan is hot enough, reduce to medium-high and cook the pancake for a few minutes on both sides. You should turn over your Msemmen until each side is cooked well (when it has a golden brown color).

Remove from heat and place on paper towels to absorb excess oil.

Do the same with the rest of your Moroccan traditional pancakes.

Serve your M'semens immediately with any toppings you prefer. Personally, I always serve my fresh chewy Msemmens with "Smen" or soften butter and honey.

Enjoy them warm with a glass or two of Moroccan mint tea!
If you love flatbreads, you may need to read about Batbout, the Moroccan pita bread.
Please, share this article!