This post may contain some affiliate links. when you buy something through these links, I earn a small commission at no extra cost to you. This helps maintain my publishing activity. Thank you!
Are you a fan of classic desserts? Have you ever tried the famous Creme Brulee?
Creme brulee or burnt cream is a thick custard made of cream and egg yolks, topped with a layer of hard caramel made of sugar. This elegant dessert is a staple on the best restaurant menus, and every pastry chef has to master it. It is decadently rich, silky, and easy to make!
In this article, I will share with you the easiest vanilla creme brulee recipe! I will provide a step-by-step guide to prepare this incomparable classic dessert in your own kitchen. Just with few ingredients and simple equipment, you will enjoy a rich vanilla flavored custard with a golden caramelized top!
How To Make Easy Vanilla Creme Brulee Dessert: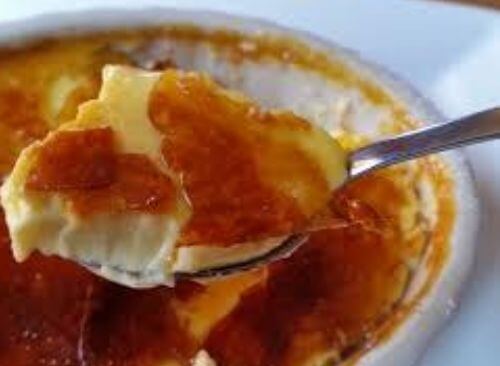 Ingredients
Directions:
First, preheat your oven to 300°F.
Arrange 4 ramekins in a baking dish (Flat ramekins are preferable for the Crème Brulée).
Make Custard:
Put the whipping cream in a saucepan (skim milk or 2% milk can not be used, only whipping cream will provide good results thanks to its silky texture).
Add the vanilla bean seeds or vanilla extract. To obtain the seeds from your vanilla bean, just slice it lengthwise to exposes the seeds inside, then use the back of a small knife to pull them out. You can drop the bean itself in your cream to add extra flavor (In this case, you will need to remove it later during the preparation).
Over medium heat, heat up the whipping cream with vanilla until it starts to simmer. Do not overheat it. The cream is ready as soon as you notice bubbles start appearing around the edges of the pan.
When the flavorful vanilla seeds infuse into the cream, prepare the eggs in a bowl by separating the white from the yolk. An amazing tip to separate the whites from the yolk is cracking your eggs into a spider skimmer.
Add granulated sugar to the egg yolks, and whisk gently.
Gradually, pour the hot cream over the yolks, stirring continuously. It is really important to bring up the temperature gradually since you add hot liquid into the cooler mixture. The eggs should stay smooth and not scrambled.
Bake Custard:
Once your mixture is well combined, pour it through a sieve to strain any solids. Your custard should be smooth and silky.
Place your ramekins on a high sided baking sheet.
Pour the custard in the ramekins, and place the baking sheet in the center of the oven. If you see any bubbles on the surface of your custard, take a paper towel and just touch the very top of the cream to remove them. In fact, this is what pastry chefs do to avoid air bubbles that prevent the sugar from browning as required.
Fill the baking sheet with hot water. The water should be at the same level as the custard. To bake creme brulee in a water bath will help your custard to cook evenly and perfectly.
Bake at 300 F (150 C) for 30 minutes.
Take your creme brulees out of the oven, and let them cool down for 15 minutes at room temperature, before refrigerating for at least 3 hours.
Torch The Top To Caramelize: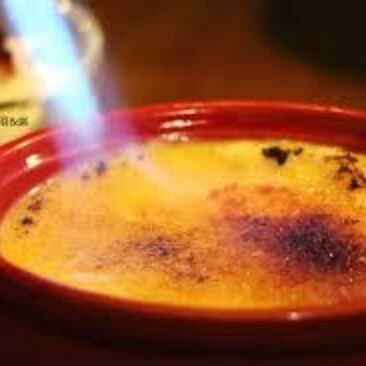 Once completely chilled, it is time to caramelize your burnt creams. This caramelizing process should be done just before you are about to serve your dessert.
Springle and spread about a teaspoon of sugar on top of each cream ramekin.
Using a torch, brown the sugar and form a crispy top (Keep moving your torch across the surface to caramelize the sugar without burning).
Place the creme brulee ramekins back into your fridge for about 5 minutes before serving them. It is really important to re-chill the dessert after being caramelized and heated with the torch.
If you like, you can top your creme brulees with a few fresh berries for more decoration.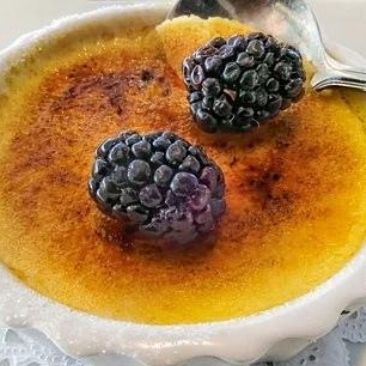 Your amazingly delicious creme brulees are ready now! I hope this simple classic dessert will please you a lot!
Share this article to encourage me, please!
If you like classic desserts, try the decadent dark dessert chocolate soufflé.