This post may contain some affiliate links. when you buy something through these links, I earn a small commission at no extra cost to you. This helps maintain my publishing activity. Thank you!
If you are a chocolate lover, this incomparable classic dessert is just what you need!
The decadent dark dessert, called chocolate souffle, is silky in texture and intense in flavor. It is called "Soufflé" meaning 'blew' in French since it rises up and puffs up in the oven. This bittersweet dessert is prepared with a few simple ingredients such as eggs, flour, milk, and chocolate. In fact, the preparation is much easier than the majority of people think! You just need to understand the process and you will be able to make your own beautiful soufflés like a professional pastry chef!
In this article, I will share with you the easiest recipe to make this luxurious dessert in your own kitchen!
How To Make Easy Chocolate Souffle Dessert At Home: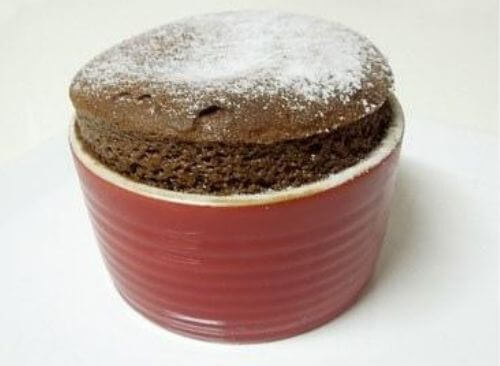 Ingredients
Directions:
Arrange the racks inside your oven, and leave space so the chocolate souffle can rise up while baking.
Preheat your oven to 380°F (190°C).
Preparing Ramekins:
First, you have to prepare your ramekins. It is really important to prepare them correctly. So, generously grease 4 ramekins with softened butter. Make sure that each ramekin is well greased, and nothing is going to stick to it.
Sprinkle each ramekin with sugar, and move it all around to make sure that all the sides and bottom is well coated (knock out any excess sugar). Sugaring the inside of your baking cups will help the souffle to rise smoothly and to provide the beautiful rise above.
Set your ramekins aside
Preparing Chocolate Base:
Now, organize and make within reach all the ingredients you need to prepare the souffle base.
In a heavy bottom saucepan, whisk the egg yolks, flour, salt, and milk.
Put the pan on the stove, and turn the heat to medium.
Cook for 5 minutes and whisk the mixture continuously to avoid burning. You just need to bring your mixture to a simmer, not a boil.
Once it is thickened up, turn off the heat and add chocolate.
Let the chocolate melt with the heat of the mixture, and avoid over mix it. In fact, the over mixing will make an oily mess, since the fat in your chocolate will separate. Note that choosing suitable chocolate is really important. It should be a little bit bitter and not too sweet to provide a remarkable balance for your souffle recipe.
Add one tablespoon of butter to help get a nice glossy finish.
Add vanilla extract into your chocolate pastry cream, whisking continuously.
When everything is completely melted, set aside and let cool.
This souffle base can be made in advance and kept in your fridge (up to 36 hours) to save time. You just need to let it get to room temperature before folding in the egg whites when you decide to finish the process.
Whipping Egg Whites:
In a large mixing bowl, add the egg whites and one tablespoon of caster sugar.
Start beating the eggs on medium speed using your hand mixer for about 1 minute.
Keep beating, and slowly add the rest of the powdered sugar until you get stiff peaks (about another minute).
Folding Chocolate Base In Egg Whites:
Once the chocolate mixture has cooled, you need to fold it (and not stir) in the egg whites using a rubber spatula. You should add the creamy base gradually, and fold by taking the egg whites from the bottom and placing them on top until it is combined. Avoid over mixing to preserve enough air in your batter, otherwise, your souffle will not rise up.
Baking Souffle:
Fill the prepared ramekins to the top, and run your thumb around the inside of each one to help the souffle rise up easily while baking.
Now, bake at 380°F (190°C) for about 15 minutes, until well risen (the souffle will rise about 1/2 inch above the edge of the ramekin). Avoid opening the oven while your souffle is baking in order not to ruin the rise (just check on them through the glass).
Serving Souffle:
Top each chocolate souffle with a sprinkle of powdered sugar, and serve immediately. It is best to serve them puffed up and warm. The French say: "Le soufflé n'attend pas, on attend le soufflé" meaning "The souffle does not wait, we wait for the souffle."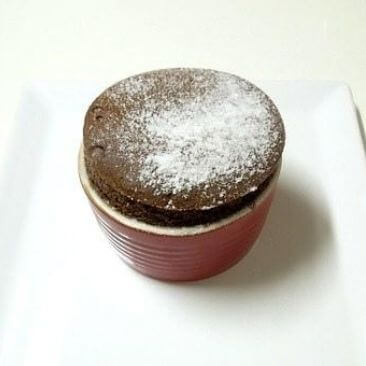 As you notice the souffle requires no special skills or tools!
Try This individual-serving dessert at home, and impress your family and friends! The classic souffle dessert is perfect, especially for parties and holidays!

Share this article to encourage me, please!

If you like classic desserts, you may like the perfect classic vanilla crème brûlée.