This post may contain some affiliate links. when you buy something through these links, I earn a small commission at no extra cost to you. This helps maintain my publishing activity. Thank you!
Lentils are highly appreciated not only for their incomparable taste but, also, for their nutritional values. Rich in iron, vitamins, calcium, and magnesium, lentils provide tone and energy, especially when cooked with vegetables! Mixing veggies and legumes give you a balanced intake of amino acids, too.
Moroccan lentils dish is so popular across the country, especially during the winter months. They are cooked basically with onions, tomatoes, and a good mix of spices. In Morocco, we can distinguish different types of lentil soup according to regions and people's preferences. When some variations, for example, mix lentils with vegetables such as sweet potatoes and carrots, others are based just on herbs and meat. Traditionally, the lentil soup is served as a main dish with Moroccan bread. However, it can be served as an entrée or a side dish with different meals such as fish and chicken.
In this article, I will share with you an original lentils recipe as my mom taught me, and as Berbers have prepared for decades! This variation uses bones instead of meat to bring extra flavor. It is easy to make and depends on a few simple ingredients that are maybe already present in your kitchen! You just need to follow the method and you will be able to prepare your own traditional lentil soup; hot, tasty, and comforting!
How To Make Original Moroccan Lentils With Carrots And Bones: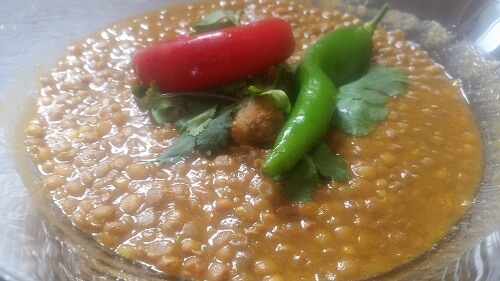 Ingredients:
Directions:
This recipe recommends that you put the lentils in a large bowl of cold water and leave them overnight. Your lentils should be well chosen! they should not be damaged or start to germinate. Choose whole, intact, and smooth lentils whatever their color is.
Sautee the onion, garlic in a large pot with 2 tablespoons of extra virgin olive oil for a few minutes.
Stir in the chopped tomatoes.
Add carrot, and continue cooking for about 5 minutes.
Add the lentils, place the bones, and cover with water.
Bring to a boil, then cook covered over medium heat for about one hour or until the lentils are tender.
Check lentils occasionally and add water if you notice that the liquid reduces too much.
Once the lentils are cooked, adjust your seasoning.
Garnish with fresh herbs and chili peppers to add a beautiful touch.
Serve hot with bread or to pair another dish.
This amazing soup can be stored in the refrigerator for up to one week and in the freezer for up to 5 months! So think of doubling the quantity!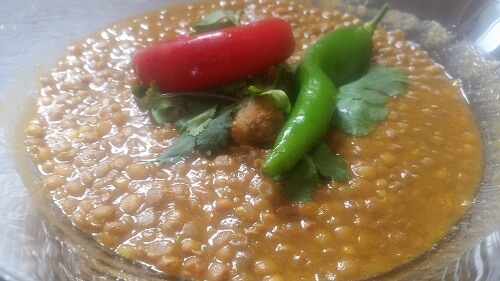 I hope that you enjoy this authentic Moroccan recipe, It is original and super easy to prepare!
Discover this amazing white haricot beans, Moroccan Loubia
Share this article to encourage me, please!