This post may contain some affiliate links. when you buy something through these links, I earn a small commission at no extra cost to you. This helps maintain my publishing activity. Thank you!
Onion soup is one of the popular foods all over the world. Distinguished by its wonderful taste and high nutritional value, this great classic is served by different restaurants in different regions. It can easily be prepared; its components are simple and economical. In fact, onion soup has always been considered "the soup of the poor" since Roman times. It consists basically of onions, cheese, and bread; so flavorful and satisfying!
In this article, I will share with you the easiest way to prepare onion soup with baguette bread. This amazing recipe requires some patience but the results are perfect!
How To Prepare French Onion Soup With Baguette Bread: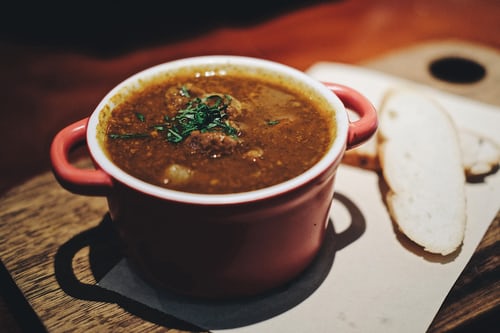 Ingredients:
Directions:
Cut your onion and add it immediately. Mix well and let it thicken. If you hear that your butter-oil mix is simmering, reduce your fire a little bit to avoid burning the onions (you need just to caramelize them).
Add dried thyme and season with salt and pepper.
Add your flour and mix well.
Add dry white wine (or apple vinegar, if you do not want to use alcohol).
Cover your pan and let your onions cook (about ten minutes) until they are well soaked in the white wine and the alcohol is completely absorbed.
Now, add the ground nutmeg and pour your stock over the onions (If you prefer a homemade chicken stock, read this article).
Mix well, cover, and cook for about 1 hour.
During the cooking of your slow-cooked caramelized onions, cut your baguette bread into slices (of about 1 cm) and place them in your baking tray.
Give your slices of bread a quick bake (Be careful, you have to dry them and not burn them).
Once the pieces of bread have cooled down, Rub fresh garlic on them to give a good flavor to your onion soup.
When you notice that your onions are well melted and the juice has been well reduced (after 1-hour cooking), put a little bit of Gruyère cheese at the bottom of an oven-safe plate (easily-melted cheeses with a strong flavor like Cheddar or Mozzarella, also, give a good result).
Place a toasted slice of baguette on your cheese and cover with the onion soup.
Sprinkle more grated cheese on top.
Place the bowls on the baking tray and broil in the preheated oven until cheese melts and starts to brown (5 to 8 minutes).
Remove and serve immediately!
Top the soup with your favorite fresh herb, if you like.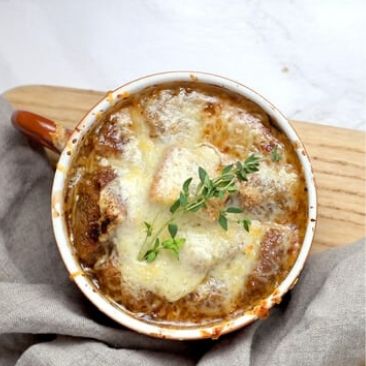 Easy Homemade Beef Stock (Bonus Recipe):
If you want to prepare your own beef stock at home, and to make your onion soup more special, just follow this simple method:
How To Prepare Easy Homemade Beef Stock: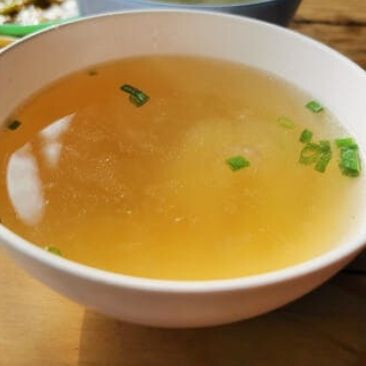 Ingredients:
For your beef stock recipe, you will need, of course, Beef Bones as the main ingredient (Try to use beef bones with the marrow). For every gallon of water, you will need 5 to 7 pounds of bones.
Also, you need:
2 Medium Onions
2 Large Carrots
1 tbsp Extra Virgin Olive Oil
2 tbsp Cider Vinegar
1 Lemon
Sea salt
Spices and Herbs (You can add any aromatics you like in your Stock)
Cold Water
Directions
First, place the bones on a baking sheet and drizzle them with your olive oil, salt, and pepper.
Roast them at 450°F/ 230°C (for about 30 to 40 minutes) until golden brown.
Once roasted, place the bones in a stockpot and fill with cold water.
Add 1 tbsp cider vinegar and cook for 30 minutes on the stove.
Now, you start adding your ingredients; carrots, onions, lemon, spices, and herbs. You do not have to really chop them since you will need to discard them later. Personally, I do not peel my veggies at all, I just wash them and keep the skin for extra flavor.
Add a big pinch of salt and the rest of your cider vinegar to pull the nutrients out of the bones.
Simmer for about 4 hours. But, if you want to speed up the process, use a pressure cooker and prepare your beef stock in less than 2 hours.
Filter your stock using a cheesecloth, let it cool, pour it into glass jars, and keep it in your fridge. Your beef stock can be kept In the fridge for up to 4 days.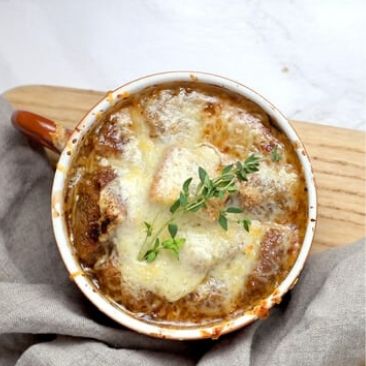 I hope you will enjoy this great stock-based onion soup! It is cheap, rich, succulent, and easy to make!
If you are a fan of authentic soups, you may need to read this article about Moroccan Harira soup
Please, share this article to encourage me!