This post may contain some affiliate links. when you buy something through these links, I earn a small commission at no extra cost to you. This helps maintain my publishing activity. Thank you!
Are you a fan of Moroccan food!? Do you love tasty soups!? Get ready to taste Harira, the best soup in Morocco!

Morocco is a country of flavors and aromas. The ancient Moroccan cuisine had been influenced by the different types of cuisines linked to Conquerors and traders from other regions. Through the long history of the country, peoples like Romans, Carthaginians, Phoenicians, and Arabs had introduced new food choices and recipes. Today, Moroccan food has become a fusion of these different food cultures. It is rich, tasty, and provides many authentic dishes with distinctive tastes!

Harira, or 'Azkkif' in Berber, is a flavorsome traditional soup that reflects the richness of Moroccan food. It is basically made of chickpeas, lentils, flour, onion, and tomato. However, like any other authentic dish, many variations of Harira can be distinguished in the country, according to regions and even families' preferences. Some prefer, for example, a thick Harira, and add beaten eggs, meat, or both of them to the stock, while others cook light Hariras and make them more vegetarian. In fact, preparing this authentic soup is not complicated, and does not take much time!

Harira soup can be served as a light dinner or as a starter. It can, also, be eaten in the morning to help you start the day with extra energy, especially in winter. In Morocco, the popular dish is traditionally associated with the month of Ramadan, but it is cooked year-round though. Moroccans consider it their favorite, and the national soup is present everywhere; in houses, restaurants, and even as street food!

In this article, I will share with you my mom's recipe. It is so tasteful, nutritious, and easy to make! just organize your ingredients, and prepare them before you start cooking your own delicious Harira!
How To Cook Traditional Moroccan Harira:
Ingredients:
Directions:
Before we start, note that you can make harira without meat, and prepare it with your favorite stock. You will need just to add this stock instead of water, as will be shown next. Just remember that you will need, also, to taste occasionally, and to adjust seasoning according to the stock used.
Preparing The Ingredients:
To make a complete Moroccan authentic Harira you should use dried chickpeas. You will need to prepare them in advance by soaking them overnight. In fact, preparing your soup with dried chickpeas and lentils makes it rich and healthy. These crops are not soaked in preservatives and provide natural flavor. However, canned chickpeas can be used, if you forgot to soak them (you will add them to your soup at the end, not like dried ones).
Drain the soaked chickpeas, and peel them.
Rinse and drain the lentils.
Place your tomatoes in boiled water for about 30 seconds to make them easy to peel. Remove the seeds, and use your food mill or food processor to puree them.
Cut meat into small cubes.
Wash your herbs, drain, and chop them finely.
Chop finely garlic and onion. Put each one in a separate bowl, and set aside.
Cooking Harira:
start by putting 2 tablespoons of extra virgin olive oil in a heavy-bottomed pot (You can use a large pressure cooker if you want to prepare Harira faster).
On medium heat, cook the cubed meat with onion for 5 minutes, stirring to brown all sides (If you are preparing Harira without meat, just caramelize onion).
Add a little bit of salt and all the herbs and spices.
Add smen (if using), and cook for 3 minutes more.
Pour a big glass of water (or stock), and stir well.
Add pureed tomatoes mixed with tomato paste, and stir.
After five minutes, Add the lentils and soaked chickpeas, and pour 2 quarts (2 liters) of water (or stock).
Note that until now, we added all the ingredients unless the Vermicelli, the rest of the olive oil (1 tbsp), and canned chickpeas, if you are using them instead of dried ones.
Stir well, and cover your pot.
Over medium heat, continue cooking for about 90 minutes, stirring occasionally and checking the chickpeas.
Once the chickpeas become tender, add the vermicelli to your Harira, and drizzle the rest of the olive oil. If you are not using dried chickpeas, check the lentils to know when you should add vermicelli, olive oil, and canned chickpeas.
Adjust seasoning, stir well, and continue cooking for 10 minutes.
Meanwhile, mix the 1 cup of flour with 2 cups of water. Mix well until the flour is completely dissolved to avoid flour-balls in the mixture (Remove them if any).
Add your mixture carefully, while continuously stirring to ensure that the soup is thickened perfectly.
Continue cooking for 15 minutes, stirring occasionally.
Remove from heat, and serve piping hot. Do not forget lemon wedges!
In Morocco, we serve Harira with boiled eggs, crusty bread, and dates. It is a tasteful combination!
Harira soup freezes well and reheats perfectly. You just need to add water and stir, when reheating.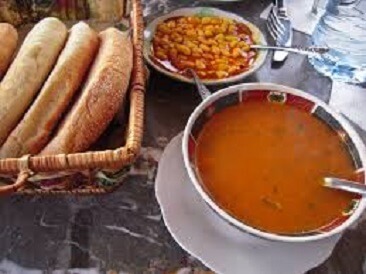 I hope you like this wonderful authentic soup! Personally, it is my favorite, and I prepare it at least twice a week!
Please, share this article and tell me your opinion after you taste it!
If you are a fan of authentic soups, you may need to read this article about how to prepare the incomparable Onion Soup. The article presents, also, an easy homemade beef stock recipe.
In this article, you will find how to make homemade chicken stock by simmering the leftover roast chicken.