This post may contain some affiliate links. when you buy something through these links, I earn a small commission at no extra cost to you. This helps maintain my publishing activity. Thank you!
Harira soup is one of the top five dishes that reflect the original taste of Moroccan food! Comforting and tasty, it has become over the centuries, the most consumed soup in Morocco! This great classic is made with simple ingredients but the spices and flavors used, upgrade it to be very attractive and delicious!
Harira soup is usually served alongside other starters such as Chebakia, Briouates, and Makrout. Moroccans, also, pair it with dates and hard-boiled eggs. They serve it either for dinner or breakfast in clay bowls with large wooden spoons. If you visit tourist food cities like Fez or Marrakech, you will be surprised by the number of small street restaurants serving this amazing soup since early morning!
There exist countless variations of traditional Moroccan Harira according to regions and even families' preferences. In this article, I will share an easy harira recipe made with chicken and bird tongue pasta. This particular variation is tasty, cheap, healthy, and especially express; prepared in less than 30 minutes and provides all the comforting qualities required! In fact, this recipe is the perfect solution to enjoy Moroccan harira without spending much time in the kitchen!
How to Make Moroccan Harira with Chicken and Bird Tongue Pasta in 30 Minutes: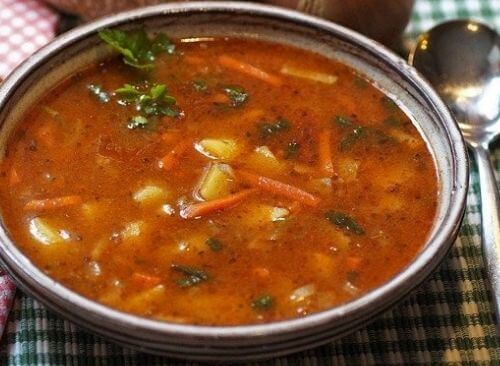 Ingredients:
1/4 pound chicken (or beef), chopped into 1/2 inch pieces
1 medium onion, peeled and chopped
2 garlic cloves, minced
3 large tomatoes, peeled, seeded, and pureed
3 tablespoons tomato paste
3 baby carrots, peeled and roughly chopped (1 to 2-inch pieces)
2 tablespoons extra virgin olive oil
1/2bunch parsley (leaves only), finely chopped (about 1/8 cup)
1/2 bunch coriander (leaves only), finely chopped (about 1/8 cup)
1 teaspoon pepper
1/2 teaspoon ground cinnamon
1 tablespoon ground ginger
1/2 teaspoon turmeric
salt, to taste
6 cups water, boiled
Directions:
In a soup pot, fry your chopped onions and chicken pieces in extra virgin olive oil, for about 5 minutes, stirring to brown all sides.
Add garlic, stir, then add the carrot pieces, tomato sauce, and tomato paste.
Once the sauce starts to boil, add the pasta, stir, and add immediately boiled water. It is important to use boiled water so that you can cook more easily and faster.
Cover and simmer for about 15 minutes stirring occasionally.
When the pasta is half cooked, add the mixture of parsley and coriander.
Let simmer for another 5 minutes before you turn off the heat.
Let your harira rest for 10 to 15 minutes before serving. Make sure to give it enough time so that the ingredients finish cooking in the hot sauce and give perfect results.
Sprinkle more herbs and serve with lemon wedges.
Harira pairs perfectly with any starter of your choice.
Your leftover harira can be frozen and reheated when needed (add water and stir when reheating).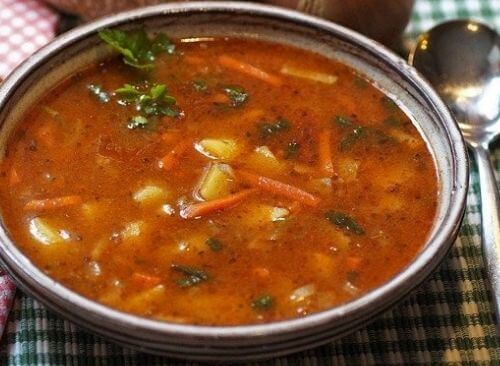 I hope you enjoy this soul-warming soup! Harira is a «watery» food that will improve your health! After trying this amazing recipe … I am sure … it will be your new favorite soup recipe!
Please, share this article to encourage me!
Discover this perfect deal on Amazon: White Cute Bowls with awesome depth ideal for soup, pasta, ice cream, rice, dessert, beans, and many other foods!
Discover the famous Moroccan Harira Soup with Lentils and Chickpeas