Are you a fan of Moroccan cuisine!? Do you know what is the best Moroccan dish!? I invite you to discover the incomparable Moroccan Berber couscous!
Historically, couscous is linked to all the countries of North Africa where Berbers live. According to The culinary historian Lucie Bolens, the first Couscoussiers were found in tombs dating back to the period of the Berber king Massinissa; between 238 and 149 BC. Berbers have been steaming their couscous for many centuries. They have used many types of grains to make their couscous granules such as corn and barley. Over the years, the traditional dish has flourished and has spread quickly to become one of the most popular foods in the world.
Today, we can distinguish many variations of couscous in 'Tamazgha' (North Africa). Like any other authentic dish, each region has a particular way of preparing and serving it. Certain preparations, for example, are made with large dark wheat grains such as "Mabroum", prepared especially in Mauritania, some are cooked basically with meat and dry fruits, and others are garnished with pure honey mixed with sesame, served sweet as dessert "Maghrood."
In Morocco, couscous represents the rich diversity of Moroccan culinary heritage. It is a symbolic dish that reflects the cultural identity of the country. For Moroccans, this authentic meal is a symbol of hospitality, sharing, and generosity. It is prepared in many varieties, but the most known are "Abaddaz" made with corn semolina and fish, basically swordfish or curd, "Bidaoui" made with seven vegetables, 'Khlea', and meat, "Seffa" which is a sweet couscous prepared with dried fruits and flavored with cinnamon, and "Belboula" made from barley semolina.
This article is about one of the best types of couscous in Morocco; Moroccan Berber couscous "Ibriyn" or "Seksu". Besides its originality, this slow cooker recipe is extraordinarily tasty. You just need some semolina, fresh vegetables, good meat (beef, lamb, or chicken), olive oil, without forgetting aromatic spices and herbs to make your sauce full of natural flavors. I will share with you the simplest recipe to prepare your own 'seksu' like a Moroccan!
In fact, the crushed durum wheat semolina used in this recipe steams perfectly and absorbs all the flavors coming from the sauce. You know … even the experience of steaming these golden granules and rubbing them using your hands is remarkably unique! Believe me … you shall be very pleased when you serve your own couscous dish; flavourful fluffy granules beautifully topped with colored vegetables and good looking meat pieces cooked in a broth with a delicious aroma!
How To Prepare The Authentic Moroccan Berber Couscous: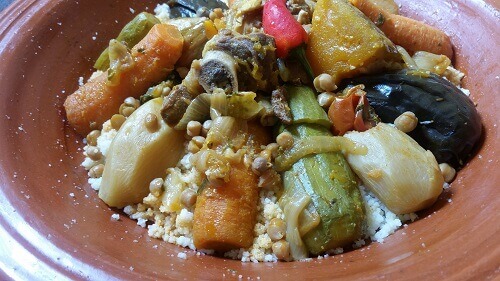 To cook the original Moroccan Berber couscous, you need a traditional utensil called couscoussier or "Tagdourt" in Berber. It is a deep pot that consists of two parts; the base pot "Tikint" which is used to cook the vegetables and meat (deeper and bigger), and a kind of flat basket or colander "Tasksout" placed above to steam the semolina (This colander has holes only on the bottom, not on the sides). Besides the couscoussier, you, also, need a large bowl to fluff the couscous granules. In Morocco, people use a traditional large hollow dish made of wood or terracotta, called "Taksrit" in Berber or "Gasaa" in Moroccan Arabic.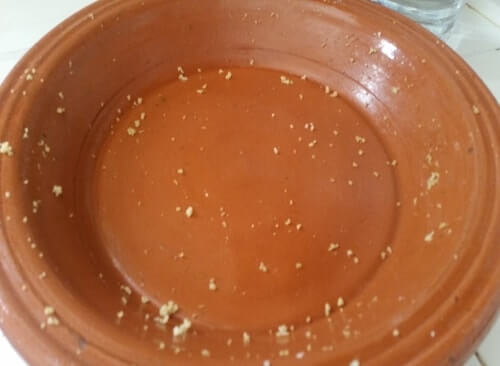 Ingredients:
1.1lb/500g Crushed Durum Wheat Semolina
1.1lb/500g Lamb, Beef or Chicken, cut into large pieces (the meat should be trimmed of excess fat)
7cups/1.6L of Hot Water
Vegetables:
1 large Onion
2 small Fresh Tomatoes
3 large Carrots
2 Eggplants
3 to 4 medium Turnips
6 Baby Courgettes
2 to 3 sections of Pumpkin
1/2 cup Dried Chickpeas, soaked in water overnight, optional
Seasonings:
1 Cilantro Bouquet, tied (Not chopped)
1/2 tablespoon Paprika
1/2 tablespoon Saffron
1/2 tablespoon Ground Ginger
1/2 tablespoon Turmeric
1/2 tablespoon Black Pepper
Salt, to taste
5 tablespoons Olive Oil
1 tablespoon Argan Oil, optional
1 tablespoon Smen (Moroccan preserved salted butter), optional
Directions:
Before we start the preparation process, note that you can omit the meat at the beginning of preparing the couscous broth, if you like to make a vegetarian couscous.
Preparing the meat:
Cut the meat, slice the onion, dice one tomato (the other diced tomato will be used later when you finish adding the veggies), and place all in the bottom part of the couscoussier.
Add 2 tablespoons of olive oil (you will need the rest to fluff the semolina granules), salt and spices, and mix all.
Over medium heat, brown the meat for about 10 minutes (stir occasionally).
Add the soaked drained chickpeas and the little bunch of the cilantro. For the chickpeas, note that you can cook them separately in another pot with some broth taken from the base pot if you like to garnish with them on top of your couscous when serving. Personally, I do not do that.
Add carefully 7 cups of hot water, Cover, and cook while preparing the semolina granules and veggies. Note that all this sauce is needed to cook the vegetables and, also, to put on the couscous when serving.
Preparing Vegetables:
Now, peel the vegetables and cut them into large long chunks. To make larger pieces is very important to avoid being mashed because of the long-time cooking. So, cut the baby courgettes and carrots once lengthwise and once widthwise. Cut the turnips and the eggplants longer to make the same size as carrot and courgette. For the pumpkin, try to make large sections.
Preparing Semolina:
In your "Taksrit" or large bowl, place the semolina grains and sprinkle some cold water.
Work the grains mixing them with your fingers and adding water little by little. All the grains should be coated with water. Also, make sure there are no lumps formed.
Leave your grains to absorb water. Note that they will be steamed 3 times (3 stages)
Steaming Couscous (First Time):
After about 20 minutes, you will notice that the broth in the base pot is ready to steam the grains above.
Add the carrots and turnips since they take a little time to cook (the veggies that cook faster will be added later).
Transfer the grains in the colander, and place it over the base pot. Do not worry about your moist grains, they will not fall through the holes!
To make sure that the steam will not escape from the joint between the two pots, seal them with a foil or cheesecloth. An old Moroccan proverb derived from couscous preparation says "Ila ma kffelti, olah la fawarti" meaning "If you do not tighten up (put effort), I swear you can never steam (achieve your goal)." In fact, some Moroccans mix water and flour to seal their couscoussiers' joint.
After 15 minutes of steam, bring down your couscous granules to work them again in the bowl.
Try to break them gently using folk as, at this point, they will be very hot.
Dizzle with 1 tbsp argan/olive oil, and add salt.
Continue to toss water, and to fluff them separating any clumps to avoid sticky couscous grains. You will notice that they get a little bit bigger and softer.
Let the couscous grains rest for about 5 minutes while adding the rest of the veggies.
Place first the baby courgettes and eggplant pieces, then add the pumpkin pieces.
Finish with the other diced tomato, and taste your broth to adjust the seasoning.
Steaming Couscous (Second Time):
For a second time, transfer the granules in the colander, and place it over the base pot.
Steam for another 15 minutes.
Remove the colander, and fluff the couscous granules with water and oil breaking clumps like the first time. Do not add more salt, just oil.
Let them rest for about 5 minutes.
Steaming Couscous (Last Time):
Steam the couscous granules for the last time (15 minutes). If you taste them, you will notice that they become softer and fluffier.
Once cooked, remove your fragrant granules, and break them gently using a folk.
Fluff with Smen or more olive oil, but do not add water or salt.
Let them cool down a little bit, then transfer them to your "Gasaa" or a deep serving platter
Serving Couscous
Remove the base pot, but, first, check on the meat since it may need another 10 minutes cooking.
Arrange the couscous granules, and leave a large hole like a crater in the center to place the meat.
Now, remove the bunch of cilantro from the base pot and discard, put some sauce (about 5 tablespoons) over the granules, and place the meat in the middle.
Start to arrange carefully the veggies all around and on top of your granules. Try to make your dish look pretty, decorating with these colorful vegetable pieces.
Drizzle more broth carefully over your couscous. If you have argan oil, drizzle one tablespoon to add more flavor. Some people use this unique oil during the cooking process, but the best use is after you finish cooking.
Now, your Moroccan Berber couscous is ready, serve it hot with the remaining broth on the side (in separate small bowls according to the number of persons you are serving).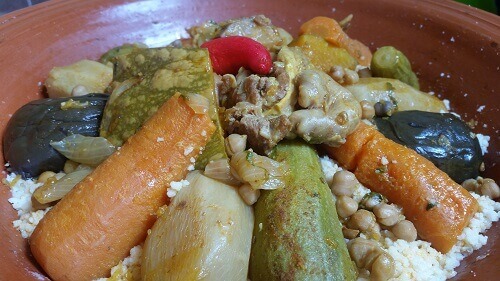 Although it takes a little bit of time in cooking, this delicious Moroccan couscous is so simple to prepare! You just need to make some effort, and you will be rewarded with a flavorsome authentic dish that will excite you and your family! When you give it a try, you will discover why people from all over the world love it so much!
Share the article, please!
If you are a fan of Moroccan authentic dishes, you may need to discover the Moroccan chicken tagine.