This post may contain some affiliate links. when you buy something through these links, I earn a small commission at no extra cost to you. This helps maintain my publishing activity. Thank you!
Sauces exist to improve the mouthfeel of dishes, to provide juiciness, to maximize flavors, to add beautiful colors and shine, and to make food look more appetizing!
As savory sauces upgrade fish and meat dishes, sweet sauces and creams enhance desserts and make them memorable! There are different types and variations of dessert dips that really offer pleasure! In this article, I will share with you three all-time favorite sweet sauces made with simple ingredients. I will show you how to prepare them just as I do and our grandmas have done for decades!
These sweet, rich creams have a kind of magical power to instantly upgrade your desserts. They will provide the taste required for your preparations no matter how simple they are! All you need is a few ingredients and a saucepan!
3 Basic Dessert Sauces To Upgrade Your Desserts:
1- Custard For A Range Of Dessert:
Several generations of gourmets appreciate Custard with snow eggs. Flavored with coffee, it is the best partner for chocolate cakes. Vanilla flavored, it goes beautifully well with fruit desserts.
Preparation: 20 minutes
Cooking time: 8 minutes
For 16 oz / 1/2 L of cream
Ingredients:
Directions:
Pour the milk into a saucepan.
Split the vanilla bean.
Scrape the inside with the tip of a knife and add the vanilla bean to the milk.
Bring to boil and remove from heat.
Cover and let infuse.
Remove the bean.
In a bowl, beat the 6 egg yolks and sugar with a hand whisk until the mixture becomes pale yellow.
Delay with hot milk, whisking briskly.
Transfer to the saucepan in which you have heated the milk.
Put it on a very low heat and cook for 8 to 10 minutes, winnowing the preparation with a spatula and without ever letting it boil (To winnow here means to turn the spatula in the pan to form the figure eight). The cream is ready when you can trace a regular groove on the spatula with your finger. If this groove remains intact, the cream is perfect!
Let cool while stirring from time to time, then serve as a sauce.
2- 'Succulent' Honey and Nut Sauce:
This sweet sauce is rich and tastes amazing! You will enjoy real party desserts from your favorite fresh fruits!
Preparation: 18 minutes
Cooking time: 8 minutes
For 3 to 4 people
Ingredients:
3 Egg Yolks
6 tbsp / 120 g Honey
5 tbsp / 35 g Walnut Kernels
7 oz / 20 cl Milk
5 oz / 15 cl Whipped Cream. If you have cream, whip it in a stand mixer or in a bowl using a whisk.
Directions:
Prepare the milk over low heat. When it starts to boil, add honey and mix well and vigorously, using a hand whisk, until you see that it is perfectly delayed in the milk. Set aside the mixture. Take a small saucepan and put egg yolks with 1 tablespoon of cold water. Over low heat, whisk the yolks until they are creamy and frothy (for about 8 minutes).
Once done, remove from the heat and delicately pour in the milk and honey without stopping mixing with your hand whisk.
Add the whipped cream gently to the preparation by stirring it with a spatula.
Add crushed walnuts, and it is ready!
Serve lukewarm.
3- 'Melting' Chocolate Sauce: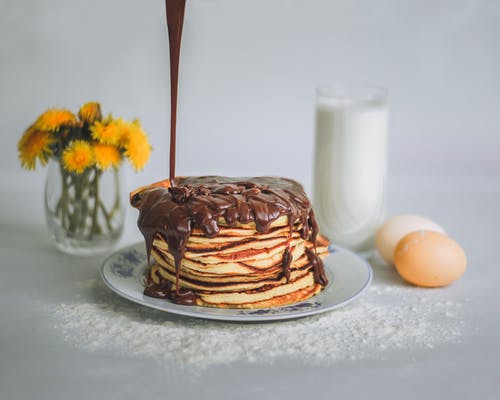 Served hot, it is one of the best tempting sweets. It fits any dessert recipe and gives it an incomparable taste!
Preparation: 5 minutes
Cooking time: 8 minutes
For 3 to 4 persons
Ingredients:
Directions:
Put the dark chocolate pieces in a saucepan, and cover with cold water.
Place your saucepan over low heat.
When the chocolate is softened enough, remove the water.
Replace the saucepan, and add the butter.
Let the mixture melt slowly without stirring.
Remove from the heat.
Before you serve, whisk the two ingredients with a hand whisk.
I hope these homemade cream recipes will please you a lot! They are rich, delicious, quick, and easy!
Please, share this article to encourage me!